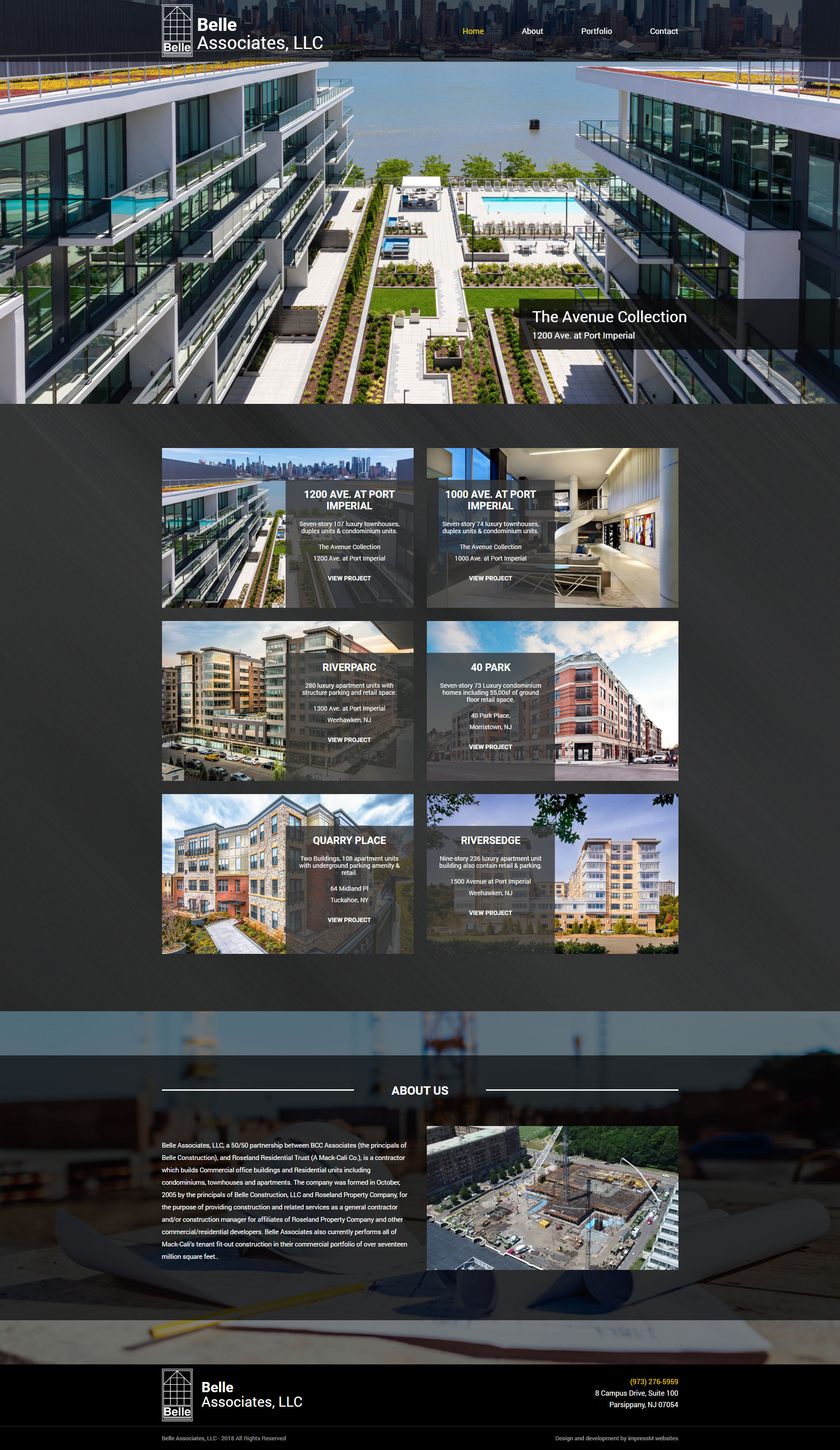 Belle Associates, LLC, a 50/50 partnership between BCC Associates (the principals of Belle Construction), and Roseland Residential Trust (A Mack-Cali Co.), is a contractor which builds Commercial office buildings and Residential units including condominiums, townhouses and apartments. The company was formed in October, 2005 by the principals of Belle Construction, LLC and Roseland Property Company, for the purpose of providing construction and related services as a general contractor and/or construction manager for affiliates of Roseland Property Company and other commercial/residential developers. Belle Associates also currently performs all of Mack-Cali's tenant fit-out construction in their commercial portfolio of over seventeen million square feet.
HISTORY
Belle Construction, LLC was formed in 1997 by James Kearney, the former President of Bellemead Construction Corporation and a builder with over forty years' experience. In 1999 Donn Norton, the former President of Bellemead Development Corporation, joined the company as a partner.
Bellemead, a subsidiary of Chubb Insurance, provided real estate management, development, and construction services in areas of Michigan, Illinois, New Jersey, Maryland, Florida and Kansas.
Mr. Kearney formed Belle when Bellemead decided to exit the real estate and construction business, employing the key professionals, managers, and superintendents who had worked with him at Bellemead (in most cases for more than fifteen years). All of Bellemead's construction-in-progress at the time of the wind-down (including two apartment projects, a speculative office building, a golf course and a tenant renovation of about 500,000 square feet of space) was awarded to Belle.
In addition to the Bellemead wind-down projects stated, Belle also completed major projects for Chubb Insurance, Lincoln Property, The KRE Group and The Kushner Companies.
Roseland Residential Trust (A Mack-Cali Company) is a premier real estate development and management company that creates locally inspired, lifestyle-oriented residential communities and destination neighborhoods in the most desirable settings through the Northeast.
Roseland is the master developer of several nationally recognized mixed-use destinations, including Port Imperial, a $3 billion, 200-acre, mixed-use community on the Hudson River Waterfront facing Midtown Manhattan. The Highlands at Morristown Station, NJ TRANSIT's first Transit Village project in the state which, along with Roseland's 40 Park and Vail Mansion developments, have spearheaded the revitalization of downtown Morristown; and Portside at East Pier in East Boston, where Roseland is redeveloping one-half mile of Boston Harbor into a premier luxury mixed-use community.
A subsidiary of Mack-Cali Realty Corporation (NYSE: CLI), Roseland benefits from Mack-Cali's financial strength and stability, along with its unsurpassed expertise in the commercial office sector.